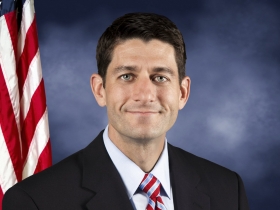 Pop the cork, pour the bubbly: That sound you hear is House Republicans doing the nae nae. Because it looks like Paul Ryan will go for Speaker of the House after all. He'd said he didn't want the headache. But the Republicans wouldn't take no for an answer. So, Ryan relented on condition the divided party unite behind him. Yesterday, the biggest stumbling block, the conservative House Freedom Caucus, said 'Fine.'
Pondering? Posturing? : Three years, seven investigations and thousands of pages of emails later, Hillary Clinton will show up this morning for a marathon, televised grilling by the Select Committee on Benghazi. The Republicans in charge of this hearing say they only want to get to the bottom of what happened in Libya on September 11, 2012. Clinton's allies say it's just another political witch hunt to derail her presidential bid.
Not a drop to drink: If you're pregnant, don't drink. Not. Even. A. Sip.* The American Academy of Pediatrics says prenatal exposure to alcohol is the most preventable cause of birth defects. It can also mess up Junior's intellectual development.
CLICK HERE to read story
source: CNN.com
5 Things To Know For Thursday October 22nd 2015  was originally published on praisecleveland.com